6 Creative Food Packaging Ideas For Your Business
Brands today understand that thoughtful packaging design influences customer buying decisions and provides buyers with a great unboxing experience. Packaging plays a crucial role in elevating marketing efforts today.
In food packaging, there are many ways your business can stand out from the competition. You can experiment with fonts and graphics, the type of packaging (e.g., plastic, paperboard, aluminum, foils, etc.), and practical packaging design. Unique and attractive packaging has the power to entice customers even when they are still unaware of your brand. 
If you're looking for creative inspiration for your food packaging, here are some innovative examples you can consider for your business.
1. Convenience works for food-on-the-go
Source: Design Awards
TOGO Burger's innovative and out-of-the-box burger meal packaging by Seulbi Kim was designed with function, convenience, and creativity in mind. It does all that without hiding the products and brand image, unlike paper bags. The packaging still leaves enough room for branding.
Not only does simplified packaging like this allow for easy transportation, but it also saves space for storing and shipping the product itself. The image sample also minimized print, paper, and glue for less redundant waste and more sustainable packaging.
2. Unique packaging with a purpose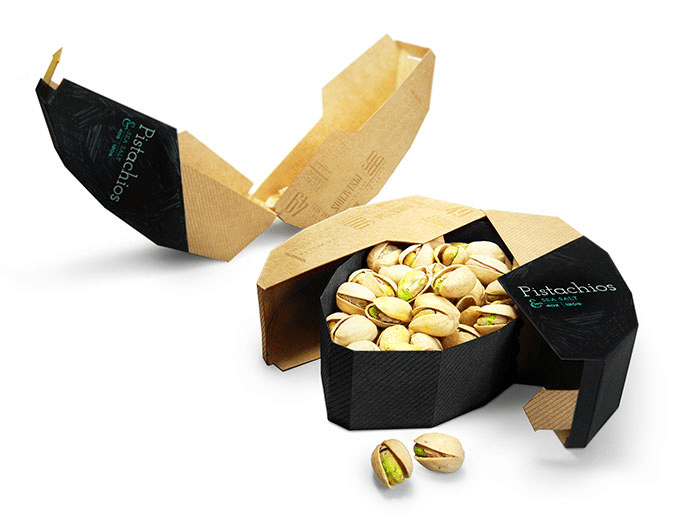 Source: Bored Panda
This pistachio package opens and separates the outer layer into a tray for discarded shells. The packaging makes it practical and easy to consume the food anywhere without taking a plastic or paper bag for trash. When finished, gather the shells and set them aside until they are discarded.
Combining form and function is where food packaging truly excels. Thinking outside the box and putting yourself in the consumer's shoes can separate your brand's product packaging from your competition. Try elevating your products' packaging design by investing in unique, custom folding cartons that creatively reflect your brand's image.
3. Make it bold with a solid color
Source: Eva Hilla via 99designs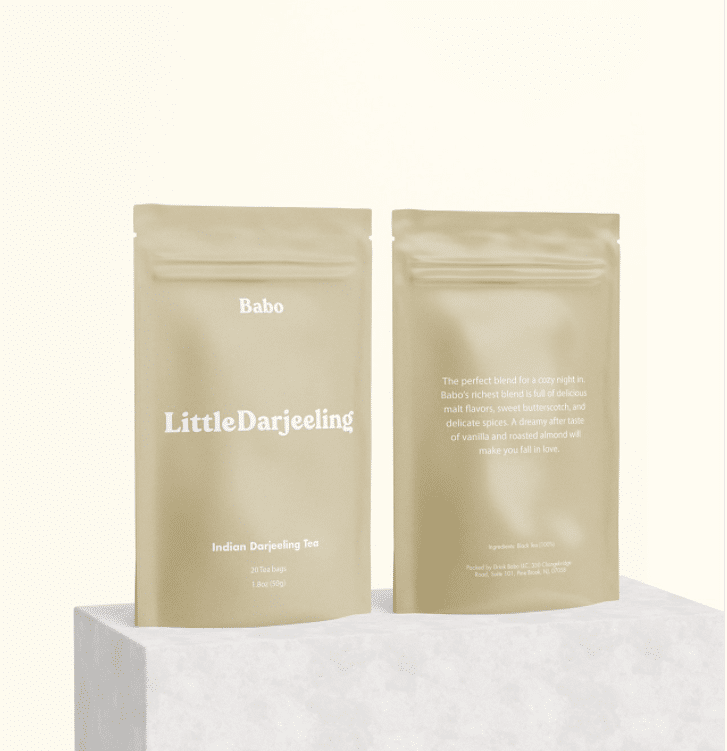 One packaging trend you can expect to see in 2022 is the use of unconventional color choices to make a bold statement—you'll find most brands using bright and vibrant colors. But this packaging design for a pouch tea by Eva Hilla showcased a calming color. It has fewer visual details and plenty of room to pique people's interests.
This type of packaging design guides the customers' eyes directly to the copy and lets it do all the talking. While it may seem too plain and the complete opposite of "show, don't tell," it, more importantly, feels fresh and builds anticipation for the product.
4. A clever peep window for a quick look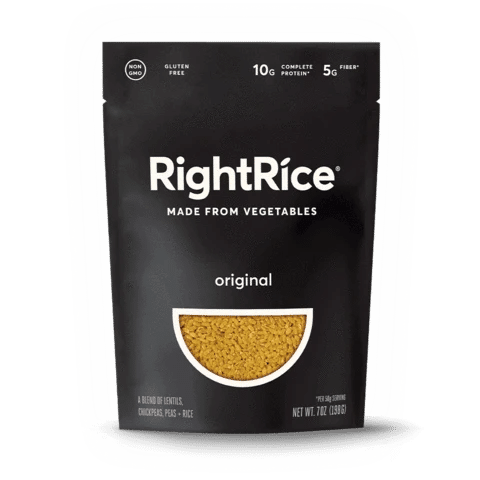 Source: RightRice
RightRice, a vegetable-based grain product, showcases a minimalist and aesthetically pleasing packaging with a cut-out window that allows consumers to see what the product looks like—and it's in the shape of a rice bowl. The brand proves that creativity doesn't always have to be about bold colors and designs. Something simple with a touch of ingenuity also works.
The bold letters layered over the plain black sealed bag represent the message of a modern and luxurious brand. It is enough to capture people's attention and encourage them to take a closer look at what's inside. Window packaging works best for food products like grains, granolas, candies, and other snacks.
5. Let the product name take center stage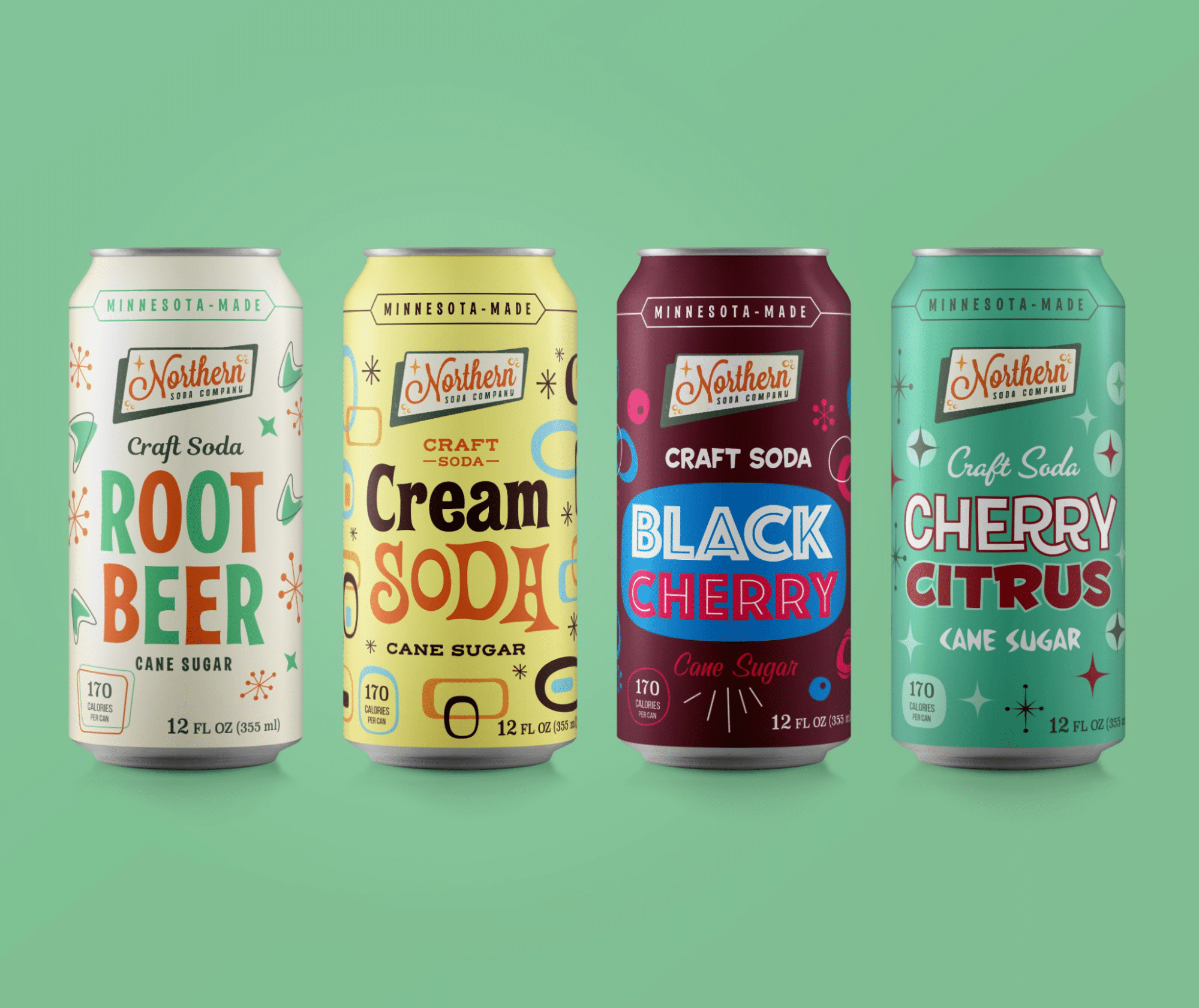 Source: Pepper Pack Design via 99designs
Beverage brands often place the brand wordmark or logo front and center and the product name below it. But instead of the typical illustration and logo design on products, consider putting the spotlight on the product name. Product-focused packaging informs consumers immediately about the product, which may encourage impulse buying while also increasing brand awareness.
Get creative with typography and graphic design to make the product a work of art and give it a personality. This design strategy can leave a strong impression on consumers. For businesses that prefer to stick with traditional primary packaging but want to stand out in some way, consider sprucing it up with artistic label design.
6. Mirror the same feeling as the product itself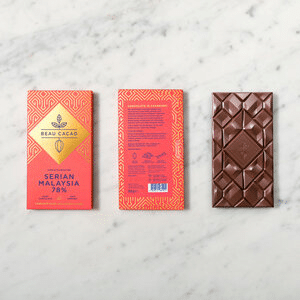 Source: Beau Cacao
Luxury brands often do well with sleek and opulent packaging for a delightful unboxing experience, such as this package design for Beau Cacao chocolates. The bright paper packaging with gold geometric design draws the eyes into the product. It presents the product inside like it's a rare jewel, only in chocolate form and rectangular in shape.
A clean and elegant packaging design that reveals a sophisticated product can create an immersive unboxing experience. If you want to provide the same experience for your customers, brainstorm around a packaging design that echoes your brand image and product quality.
Packaging: The Star of your Marketing
Your food or beverage business' product packaging is prime real estate you can use to showcase the appeal and quality of your product and your brand's story. Consumers today are no longer swayed by traditional sales and advertising techniques. Ads, commercials, and brochures can be ignored, but not your product, especially when it stands out on the shelves.
Businesses should pay attention to their packaging and work with packaging solutions services to help highlight their products in the best way. Find out how you can bring your creative packaging idea to life by reaching out to experts from Meyers for professional printing solutions. Get in touch with us to learn more.