Creative Retail Packaging Ideas, Examples and Strategies
In retail, packaging is an essential part of the marketing mix. Creative retail packaging can significantly impact consumer behavior, influencing purchase decisions and reinforcing brand identity. It can create an emotional connection with consumers and make a lasting impression that sets products apart from the competition.
Thus, your brand's retail packaging design must appeal to your target audience while fulfilling practical considerations such as sustainability and usability. This article will explore the key elements of creative retail packaging and provide ideas and examples of successful packaging design. It will also discuss various packaging strategies that can showcase your brand identity while keeping up with industry trends.
THE KEY ELEMENTS OF CREATIVE RETAIL PACKAGING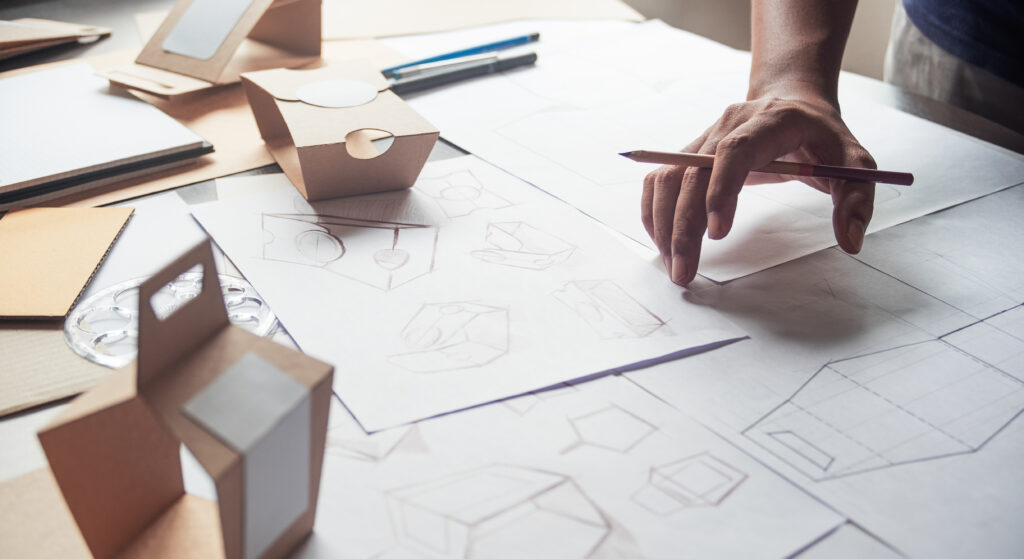 By considering these key elements of creative retail packaging, retailers can design effective product packaging that appeals to customers and sets their products apart.
● VISUAL DESIGN
Visual design is one of the most critical elements of creative retail packaging. It includes using colors, typography, graphics, and other design elements to create appealing and distinctive packaging that captures the attention of potential customers. Effective visual design can also communicate the product's benefits and unique selling points.
● MATERIALS AND SUSTAINABILITY
Today's consumers are increasingly concerned about the environment and sustainability. As a result, retailers must consider the environmental impact of their packaging choices. Sustainable packaging options, such as biodegradable materials and reusable packaging, can appeal to eco-conscious consumers and differentiate products from competitors.
● FUNCTIONALITY AND USABILITY
Creative retail packaging must also be functional and user-friendly. The packaging design should make it easy for customers to use the product and access any necessary information. For instance, food packaging must be easy to open and reseal, while electronics packaging should be protective and easy to transport.
● BRANDING AND MARKETING
Retail packaging design should also align with the brand's identity and marketing strategy. The packaging design should incorporate branding elements, such as the brand's logo and color scheme, to reinforce brand recognition and loyalty. Additionally, packaging can be used as a marketing tool to communicate the product's features and benefits.
RETAIL PACKAGING IDEAS TO MAKE PRODUCTS STAND OUT
When done effectively, retail packaging can help increase brand loyalty, create a memorable impression, and differentiate products from competitors. Consider incorporating the following packaging design ideas to make your retail product packaging stand out:
1. UNIQUE SHAPES AND SIZES
Using unique shapes and sizes can create packaging that stands out from competitors on the shelf. Unusual shapes or sizes can also make a memorable impression and increase the likelihood of a repeat purchase. For example, a skincare product in a unique bottle shape or a snack food in an unusual container can catch the customer's eye and create a lasting impression.
2. INTERACTIVE PACKAGING
Interactive packaging can create a fun and engaging experience for customers, increasing brand loyalty. This type of packaging often involves a specific activity or hidden surprise, such as a puzzle on the back of a cereal box or a QR code on a beauty product.
The McDonald's "BTS Meal" is an example of interactive packaging, wherein the limited-time meal featured an artist menu collaboration that brought more BTS fans to the McDonald's mobile app to access exclusive digital content, including exclusive behind-the-scenes footage of BTS, a popular K-pop group.
The interactive packaging created a unique and engaging experience for customers, encouraging them to engage with the brand beyond the physical product. The campaign was a huge success, with the BTS Meal selling out in many locations and generating significant buzz on social media.
3. LIMITED EDITION PACKAGING
Limited edition packaging creates a sense of urgency and exclusivity, encouraging customers to purchase the product before it is no longer available. The packaging can also generate buzz and increase the chances of social media shares, leading to more exposure for the brand.
Starbucks' holiday packaging is an example of limited edition packaging that includes a line of holiday-themed cups, bags, and gift cards. The holiday packaging creates an exciting, festive atmosphere in Starbucks stores, increasing foot traffic and sales.
4. PERSONALIZED PACKAGING
Personalized packaging can create a connection with customers and make them feel valued and special. The packaging often involves custom product labels or messages. For instance, a coffee product with a personalized message on the bag or a skincare product with the customer's name on the label can create a sense of ownership and increase brand loyalty.
5. SUSTAINABLE PACKAGING
Sustainable packaging is becoming increasingly important to consumers. Thus, using sustainable packaging materials or partnering with a sustainable packaging manufacturer can differentiate your product and boost brand image. Sustainable packaging options include biodegradable or compostable materials, recycled materials, or reusable packaging.
Brands prioritizing sustainability can use their packaging as a powerful marketing tool to appeal to eco-conscious consumers. It is an effective way for brands to align with customer values, differentiate themselves from competitors, and positively impact the environment.
5 RETAIL PACKAGING STRATEGIES FOR YOUR BRAND
The following retail packaging strategies can help brands create packaging that is not only visually appealing but also functional, on-brand, and appealing to their target audience.
1. CONSIDER THE PRODUCT AND THE TARGET AUDIENCE
When designing retail packaging, it's important to consider the product being sold and the target audience. A luxury skincare product will differ from packaging for budget-friendly snack food. Knowing the target audience and the product's unique selling points can help guide packaging design decisions.
2. FOCUS ON FUNCTIONALITY AND EASE OF USE
Retail packaging should not only look good but also be functional and easy to use. Snack food packaging that is difficult to open or reseal may deter customers from making repeat purchases. Packaging that is easy to use and convenient can create memorable experiences and encourage customer loyalty.
3. USE HIGH-QUALITY MATERIALS AND PRINTING TECHNIQUES
High-quality materials and printing techniques can make the packaging look more expensive and luxurious. Using foil stamping, embossing, or high-quality paper stock can make packaging stand out on the shelf and create a sense of quality. Using high-quality materials can also increase the perceived value of the product.
4. ENSURE PACKAGING FITS WITH BRAND IDENTITY
Packaging should reflect the brand identity and the product being sold. A playful and colorful packaging design may work well for a children's toy but not for a luxury skincare brand. Packaging should align with the brand's values, messaging, and overall aesthetic.
Apple's iPhone packaging, for instance, is a minimalist retail packaging that is simple and sleek yet emphasizes the product inside. The packaging design is consistent with the brand's overall aesthetic and values, emphasizing simplicity and sophistication. The packaging is also designed to be easy to open and includes all necessary accessories in a well-organized and efficient manner.
5. STAY UP-TO-DATE WITH TRENDS AND INNOVATION
Retail packaging trends and innovation are constantly evolving. Staying up-to-date with the latest packaging trends and techniques can help brands create fresh and modern packaging. Retailers can also consider innovations in materials, printing techniques, or packaging functionality that can help differentiate their products from competitors.
PACKAGING YOUR WAY TO SUCCESS: THE CREATIVE EDGE YOU NEED
Creative packaging is an essential element of a successful retail strategy. From innovative materials and shapes to interactive and sustainable packaging, there are many ways brands can leverage retail packaging to stand out and make a positive impact on customers and the environment. However, brands should also carefully align their retail packaging design with their brand's identity, development, and target audience.
If you're looking for a packaging partner to help bring your creative retail packaging ideas to life, Meyers has the expertise and resources to create packaging solutions that can enhance your customers' retail experience. Contact Meyers today to learn how we can help you with unique retail packaging and retail display solutions that drive results.