Product Unboxing: Ensuring Customers Get the Perfect Experience
Unboxing photos and videos have become a cultural staple in the age of social media. In the past, consumers only focused on the item inside the box. These days, unwrapping packaging to reveal the product has proven to be nearly as exciting. This is where the unboxing experience as part of a brand's marketing strategy becomes even more significant.
It's no longer enough that your product packaging merely protects. The popularity of unboxing photos and videos has steered packaging trends in the direction of custom and branded packaging that promises the most satisfying unboxing experience. This in itself is an investment worth making for your business.
Happy customers mean loyal customers, and loyal customers equate to target-hitting sales. When your customers start filming and sharing the unboxing of your product, your brand will reap the rewards of free and organic marketing.
Read on for some expert tips on how to improve your customers' unboxing experience.
1. Know the anatomy of a well-packaged product
A well-packaged product usually has three layers: tertiary packaging (the shipping box), secondary packaging (bubble wrap or crumpled paper keeping the item inside safe), and primary packaging (the actual packaging and container of the product).
These components vary depending on a brand's budget and the nature of the product. However, the same rule applies to all: keep all packaging components branded and, ideally, customized. Customized packaging strengthens brand recall and keeps your products at the top of the minds of consumers.
2. Ensure high-quality packaging
Source: Unsplash
Many consumers today depend on ecommerce to make a purchase, which means that a product bought online will often have a long journey before reaching its destination. Receiving a product with dents and scratches can turn off customers and can reduce the odds of repeat business. Therefore, high-quality, durable packaging is a must.
Apple has perfected this strategy with its product packaging. Their boxes are not only durable. They also feel premium and are seamless to open, which adds to a delightful unboxing experience. You can emulate the same strategy by using quality materials and design on product packaging.
3. Use customized wrapping paper
Using clear plastic or store-bought paper as product cover is a common practice, but treating your customers with customized wrapping papers might just be a better idea.
Apart from covering your item, your wrapping paper can also double as your branding and marketing real estate, where the possibilities to introduce your brand more to your customers are endless. For instance, you can print a recycle icon to encourage customers to reuse the paper, so they know that your brand is environmentally conscious. Consumers also often appreciate a custom insert explaining how to easily recycle your packaging, either curbside or at a retail store.
With this, you're getting a two-for-one–you get to protect your product and, at the same time, communicate a message for brand building and customer relationship.
4. Use customized packaging tape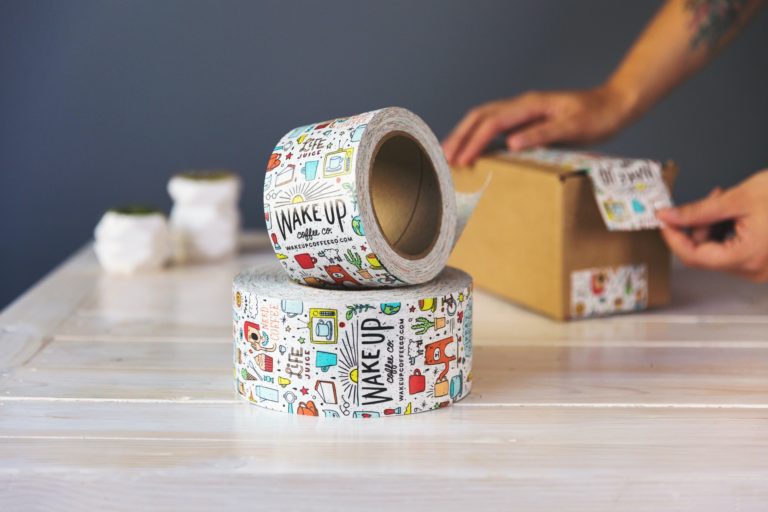 Source: Unsplash
One of the least enjoyable parts of unboxing is removing those bothersome strips of packaging tape. It can be even more troublesome for your consumer if the tape used is low quality. Why get the most out of the surface of the packaging tape you use? That's another opportunity to market your brand. Customization will allow you to make the packaging look aesthetically sound in a way that aligns with your business identity.
5. Place custom elements
You don't need to be in the same room with a customer to build rapport with them. By adding custom elements to your product packaging, your customer will feel like you're talking to them as a friend, not just a seller. For instance, including handwritten thank you notes will communicate how grateful you are for their unwavering support.
If you want to take it a step further, you may include QR codes to direct customers to links where exclusive discounts await.
6. Make it interactive
It's in your best interest to lengthen a customer's interaction with your product packaging. The longer their unboxing takes, the better it is for your brand—so long as each step makes sense and enhances the experience.
One way to execute this is by introducing interactive components to your product packaging. For example, you may incorporate a puzzle or quiz in the box. If a customer is sufficiently entertained, they might even share it with friends and family. That's another marketing score on your end.
7. Surprise them with freebies
Not all people love surprises, but no one will complain if it's the good kind. Customers who order a product and get something more from the box sent to their doorstep will be happy without a doubt.
Giving away freebies may equate to more expenses, but that doesn't have to negatively impact your profit margin in the long run. Treat your customers with a simple gift and make their unboxing experience more memorable. This can help increase their chances of coming back for repeat business.
8. Put a CTA on packaging or inserts
Source: Looka
Let your product packaging be heard. Incorporate a call-to-action (CTA) on its most prominent surfaces. The specifics of the CTA will depend on your current marketing efforts. For example, you can encourage customers to share a photo of their unboxing experience to social media using a specific hashtag. Make it more exciting by offering prizes or instant redeemable coupons (IRCs) to lucky participants.
Unboxing is Here to Stay
As long as there's social media, unboxing content will remain popular, so brands might as well craft a brand marketing strategy with this important part of the customer journey in mind. It'll require you to invest a little more in your product packaging, but rest assured, every penny you spend will be worth it.
Remember that different kinds of consumer goods require specific types of product packaging—it's not one-size-fits-all. Customization is key for a brand to stand out. Talk to the experts from Meyers to help bring your product packaging vision to life.