13 Most Important Parts of a Product Label
A product label is more than just a sticker, cardboard liner, or any other substrate material where you print your logo and brand name. Once your product hits the retail store shelves, it is an opportunity to educate shoppers on what is in it for them when they buy from you.
That is why the best product labels contain as much information as consumers need/care to know, while also maintaining the product's attractiveness. The better your brand communicates through your labels, the higher the confidence from your target market and regulatory agencies. This is especially true if you are manufacturing food items or drugs, which must comply with numerous label regulations.
In this article, you will learn about the different elements you should include when designing your product label.
13 Most Important Parts of a Product Label
Appetite Appeal

A primary function of food labels is to look attractive to the consumers' eyes since it is the label that they see first. Food labels often come with elements that entice consumers to put them into their carts. This could be a high-quality photo of the product or a beautiful image of the ingredients using attractive colors.
Unique Fonts

Fonts are an important component of the product label's design. Besides the aesthetics, fonts help create a professional brand image and add personality to it. By carrying unique fonts on your product label, there is less chance of mistaking your brand for another. One look at the label's font or colors or even the type of package finishing, and shoppers already know it is a product from your brand.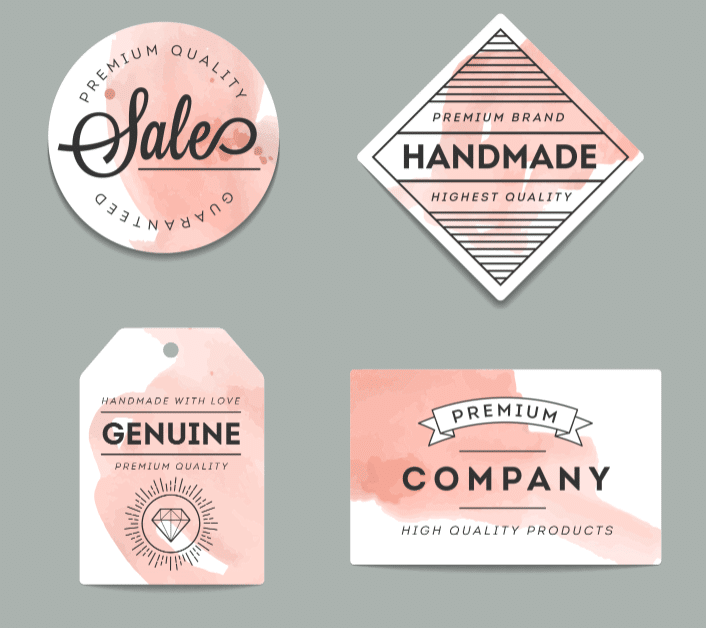 Brand Name

The brand name is one of the must-haves for product labels. It is the name by which your identity is represented to consumers. When possible, your brand name should be on a prominent space on the front and back of the product. 
It is also possible that your brand name is different from your company name. Ensure that the two are not in conflict with one another.
Product Name
Just like the brand name, the product name needs a prominent spot on the packaging label. Aside from easy-to-see placement, descriptive text can help buyers know what to expect from the product they are getting. Is it for kids, adults, or both? Ensure that the product name or description clearly communicates this point.
Product Size

Customers need this information to help them figure out how much product is in the packaging and the quantity they have to get for their needs. 
For consumer products with weight and volume measurements, you may need to provide product size information using the metric units (SI). Product size can also be used to indicate the exact or approximate number of units or pieces included in the packaging of a particular item, such as candy bars, tableware, and batteries.
Series Name or Batch Numbers

The series name can indicate: the item is part of a product series or collection or that it comes fresh from a small production, complete with a batch number. The latter creates the feeling of a craft or specialty item that is not mass-produced and, therefore, is premium and desirable.
Company Information

Suppose consumers want to compliment you on your amazing products. There should be a way for them to contact you through the company information stated on the packaging, including your company name, city, state, zip code, phone number, and any communication channel they can use to reach you. This information is also helpful in the unlikely event that a consumer has a problem with your product.
Barcodes & 2D Codes

Barcodes are also called universal product codes (UPCs), which stores scan to identify or distinguish your products from the rest. Two-dimensional (2D) barcodes are great for storing and tracking data about items in your inventory or for quality control inspections.
2D codes can also have more uses, such as how QR codes make it easy for you to send company or product information or even promotional messages straight to customers' mobile devices. 
Certifications

Depending on your business or industry, you may need to specify if your product has passed any applicable certification processes. For example, milk formula and food supplies can carry cruelty-free or certified organic certifications to attract a particular target market. 
In contrast, the Forest Stewardship Council (FSC) and Sustainable Forestry Initiative (SFI) certifications apply to paper manufacturers to signify that they have implemented sustainable practices in their trade. Research has shown that consumers prefer brands that source sustainable materials, so be sure not to waste the opportunity to make FSC or SFI certification clear on your product label if you're using those materials.
Nutritional Facts

This Food and Drug Administration (FDA) labeling regulation requires food manufacturers to indicate the nutrients in their products and their corresponding percentages to guide consumers on their nutritional intake. Nutrition labels have to present clear and accurate information, following the FDA's prescribed format.
Recycling Information

Eco-friendliness is a big consideration today. One way to encourage consumers to contribute to this goal is by providing information on how to recycle your product packaging and label.
Cooking or Food Preparation Instructions

If you are selling any food product, do not assume what shoppers know. So provide step-by-step instructions on how to cook or prepare your food product, including cooking time, degree of heat, and other helpful tips.
Expiration Date

The FDA requires the "Use By" date labels on products such as infant formula, indicating the date of when the product "contains no less than a minimum amount of each nutrient identified on the product label." For other consumer products such as packaged food and medicines, the phrase "Best if Used By" indicates a date by when the product's quality will remain acceptable.
Getting All Your Information Across
Effective product labeling has more uses than one. Brands can use it to educate consumers about the product, set it apart from the competition, and improve brand recognition.
Whatever you hope to accomplish with your product labels, form and function will have to be critical factors for consideration. Through professional printing solutions, experts at Meyers bring your product labels to life. Let us know your printing needs.